A decade ago, the only children seen in the Wimbledon players lounge tended to be those of tennis-playing fathers.
While Roger Federer, Andre Agassi, Boris Becker and many others combined highly successful careers with parenthood, the sight of tennis-playing mums on the court remained few and far in between.
In 2010, Belgium's Kim Clijsters competed at Wimbledon for the first time with daughter Jada in tow. That caused a considerable stir.
This was not just because of Clijsters' remarkable success as a mother – she won the US Open just weeks after returning to the tour – but because she was one of only eight women in the previous 30 years to return to professional tennis after giving birth.
However, fast-forward eight years and the WTA Tour's globe-trotting mums are considerably more abundant.
While Serena Williams has made all the headlines at Wimbledon, she's far from the only mum competing at the elite level. Victoria Azarenka, Tatjana Maria, Evgeniya Rodina, Maria Martinez Sanchez, Katerina Bondarenko, Vera Zvonareva and Mandy Minella are all combining raising young children with trekking the globe to compete on the tennis courts at the highest level.
Maria feels the growing number of mothers competing is due to a shift in mentality regarding what's possible for female players, driven largely by the longevity of the Williams sisters.
"For a long time, there was this feeling that women can either play tennis or if they have a child, they retire," Maria told Al Jazeera.
"We couldn't have both. People thought that wasn't possible as you would either lose the best years of your career or you'd be too old and not able to get back to the top. But now, because of Serena and Venus, players have seen how long you can continue to play tennis for, and still do well."
In many cases, these individuals have been remarkably successful, just like Clijsters.
Maria has enjoyed the best years of her career since giving birth five years ago. She won her first WTA title in Mallorca last month while Russia's Rodina reached the fourth round of Wimbledon for the first time in her career this year.
Some feel this is due to physiological benefits, citing the increased stamina often experienced by long-distance runners who have returned to racing after childbirth.
Germany's Tatjana Maria won her first WTA title last month [Tony O'Brien/Reuters]
Others feel the boost is more of a psychological one. The tennis world can be an unforgiving and an isolated place. Having family around a player helps cushion even the toughest of losses.
"It's hard to be on tour when you're on your own," said Maria.
"When you lose and you're alone, it's not easy. But when you have your family with you, you're 10 times more relaxed after a match. You see your child and you quickly forget about how you played. Even during matches, you're always thinking about her, checking what she's up to during the changeovers."
But fitting practice sessions and matches around taking care of the child is not easy.
"That's the biggest challenge," said Bondarenko.
"There are times when you need to practise and she has to entertain herself. It's difficult to focus when you have a child running around, yelling and asking questions all the time."
View image on Twitter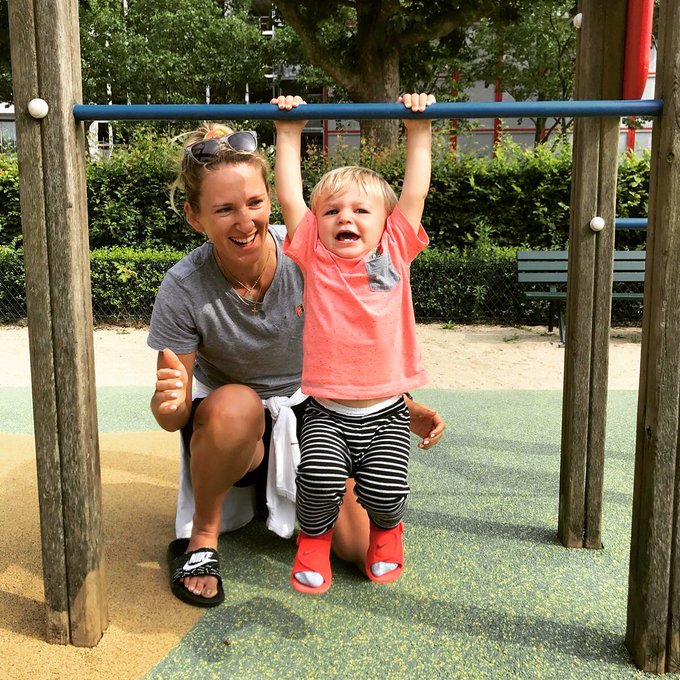 While Serena can afford to travel with a large entourage and help, the further you go down the WTA rankings, the greater the challenge becomes.
Bondarenko, Maria and others in the top 100 are able to afford to take their husbands with them, partners who often double as coaches and managers, organising the logistics of travelling the tour while minding the children when their wives are on the court.
However, for those ranked lower, this is not always financially viable. Such challenges mean tennis-playing mums outside the top 200 are scarce.
"It would be impossible, if he wasn't there to help," said Bondarenko.
"I'd have to take some relatives with me to help. But otherwise, it's just not possible."
Facilities to help these players vary hugely across the tour.
At Wimbledon, there is a complimentary kindergarten throughout the tournament for all players with children from 11am to 8pm.
Meals are provided along with a constant stream of supervised activities ranging from painting to games.
But the other Grand Slams have a more limited service. For the rest of the year, there is even less.
["Source-timesofindia"]