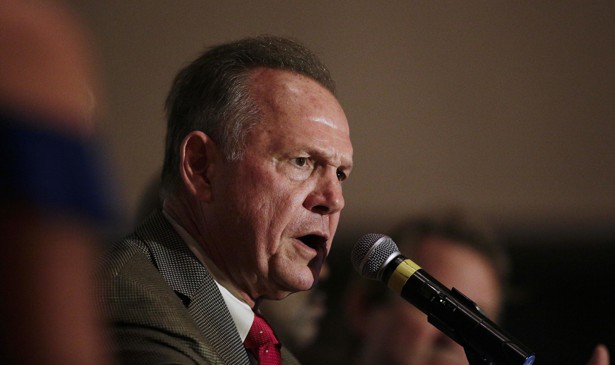 Today in 5 Lines
In an interview with conservative commentator Sean Hannity, Alabama Senate candidate Roy Moore denied allegations that he had a sexual encounter with a 14-year-old girl when he was 32, but only said he could not recall dating girls as young as 17. Earlier in the day, Mitt Romney said Moore "is unfit for office and should step aside." Senate Republicans' campaign committee will no longerfundraise on Moore's behalf. During a speech at the Asia-Pacific Economic Cooperation summit, President Trump delivered an "America First" message and pledged to pursue fair trade deals. Five Democratic senators said they want to hold a second confirmation hearing for Kirstjen Nielsen, Trump's nominee to head the Department of Homeland Security.
---
Today on The Atlantic
Fight the System: The Trump White House is becoming increasingly frustrated about the restrictions on its authority and is finding other ways to pursue the president's political agenda. (Alex Wagner)
Do Taxes Matter That Much?: Republican leaders believe that passing tax reform will be the key to their success in 2018. It's more likely that the opposite is true. (David A. Graham)
'It Was 40 Years Ago': Here are some of the ways that Alabama Senate candidate Roy Moore's supporters have defended him from allegations of sexual misconduct. (Elaine Godfrey)

Radio Atlantic: What lessons have journalists taken from the 2016 campaign and President Trump's election? What's changed since then? And what should change going forward? In the latest episode of Radio Atlantic, Adrienne LaFrance, the editor of TheAtlantic.com, and Yoni Appelbaum, the magazine's politics and policy editor, join Matt and Jeff to look back and look ahead one year after the Trump Era began.
Source:-theatlantic